I don't know about you but I don't have $100,000 to spend on my wedding.  I don't have anywhere close to that amount of money.
I have been keeping tabs of what we have been spending in my head, but I haven't really looked fully deep into the numbers because we were so far out before.  I have now started getting numbers from DJs and florists and cake ladies so I knew I needed to keep track of everything in a handy dandy spreadsheet.
So what is a girl who is getting married to do?  Google it; of course!
I knew I wanted the spreadsheet to be in Excel (obviously), so I went with a template from Office.  You can download it here if you are in need of one.
Why do I like this template?
You can customize it.  I added and took out things that we weren't going to have (like garter and flower girl dresses).
It keeps a running total for you in the Summary section on the left.
You can know if you are over or under budget.
It breaks things down into categories.
There is also a spot that shows you how many days left until your wedding.  This just seemed awesome to me to actually see how close far away we are.
Are there other templates out there?  Probably.  But this was free and I liked how easy it was to use.
Here is what ours looks like:
As you can see, I took out some stuff from the decorations section because we wouldn't be using those.  I don't even remember was used to be there…sorry about that!
Here is the summary page:
Stay tuned next week for the DJ shock.  I wasn't prepared for how expensive they were.
Don't forget to link up your Wedding Wednesday post!  You don't have to be engaged to link up!  All we ask is to take the button below and put it someone on your post.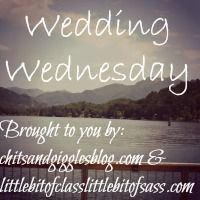 <div align="center"><a href="http://www.chitsandgigglesblog.com/" title="Chits 

and Giggles"><img src="http://i1249.photobucket.com/albums/hh513/aukris02/weddingwednesdaybutton_zps1bde4fd6.jpg" alt="Chits and Giggles" style="border:none;" /></a></div>