So, congrats!  You are engaged.  I heard a lot of people say that registering was their favorite part of wedding planning.  We have not officially registered yet but we have looked around at stores in person and online to try to figure out where we want to get certain things.
I want to spend today giving you a few tips to help you with the Registering process.  It can be daunting when you think about it.
Registering can be really fun.  It's like you are shopping but not spending any of your own money.  I mean, how hard can that be?
Decide what you want
Before we were even engaged, I knew what I wanted to register for.  I have had hand-me-down dishes and pots and pans for years.  Since college.  So I knew I wanted to replace these.  I also knew I wanted to get some new sheets and towels.  But I mainly wanted to get stuff for the kitchen.  Since Jeremy and I live together, we have bought stuff together (like towels) and I was gifted amazing appliances for my birthday and Christmas (Kitchenaid mixer).
Having a plan in place of what you want to register for will help you decide where to register.  There are TONS of places that have registries now and even if a place doesn't offer a registry (West Elm), you can still have a registry online for multiple stores.
Research
I love shopping online.  I always have and probably always will.  Jeremy is a huge believer in reviews and finding all the possible options and then picking the best one.  I did a bit of research before we were engaged on what I thought I wanted.  It's funny because my thoughts changed drastically from the dishes I thought I wanted and what we are probably going to register for.
Researching together can be fun too.  I have enjoyed finding things that I like online and seeing if Jeremy agrees or not.  You can not only see what you like online, but you can read reviews.
Reviews
I said above that Jeremy loves reviews.  And he does.  I didn't really understand this until we were looking at dishes.  We had gone to Macy's this past weekend to just look at some stuff.  We ended up finding dishes that we both LOVED.  I was sold.  Then I tell my mom about them and she does her own research — we didn't find reviews of these dishes before we went and saw them — and she told us that the reviews were really bad.  Like 1 star bad.  And they were awful!  I was sad, but not heartbroken because I am grateful that I saw those reviews before we registered for those dishes.  I think we found something similar that has amazing reviews instead.
Find things you both love
The hope is that this marriage will be the only one you have.  So you want to get things that you love.  And you both need to love them.  Don't settle for something just so that you don't have an argument over it.
Example:  I love my man to death, but he can be pretty darn picky.  Not really about food, but about his cereal bowl.  I am not even kidding.  It needs to be deep enough for him, but can't have a lip on it and needs to look nice.  Oh, and the dishes have to get good reviews.  So, I would find a pattern that I liked and the cereal bowl would have a lip on it.  Just because I liked it, doesn't mean I am going to force Jeremy to like them.  He has to use them too and even though he has high demands on his cereal bowl, I know when he likes something.
Register at multiple places
I had heard this before, but didn't really believe it.  Register where you find things you love.  We originally wanted to register at Bed, Bath and Beyond.  That was it.  I thought I found dishes that I liked (now I am not a fan) and I knew we could get almost everything we needed there.  And Jeremy does love BBB, so I thought it was a win-win.  Then I realized that their selection of flatware is awful and the dishes we want aren't there.  So, we will probably be registered at Macy's, William Sonoma, and Bed Bath and Beyond.  Yes, 3 places is a lot, but we know that we will be getting what we love instead of settling for stuff.
Have fun
Like I said before, this is like shopping without spending money, so have fun with it.  Find things that you either really want (Vitamix) or really need (pots/pans) and take that little gun they give you and go crazy!  I can't wait for us to actually start registering for real, because I know it will be really fun!
(These can also pertain to baby registries as well)
What tips/tricks do you have for registering?
Alright, now it is time for you to link up your Wedding Wednesday posts!  Please link up below.  You can link up anything –and old post, a new one…anything wedding related!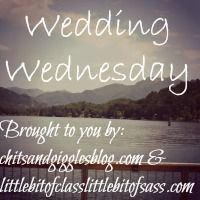 <div align="center"><a href="http://www.chitsandgigglesblog.com/" title="Chits 

and Giggles"><img src="http://i1249.photobucket.com/albums/hh513/aukris02/weddingwednesdaybutton_zps1bde4fd6.jpg" alt="Chits and Giggles" style="border:none;" /></a></div>