Wedding planning is hard.  Not that you needed me to tell you that.  One thing I look forward to is planning our honeymoon.
But, it's not all roses and rainbows when you try to plan a honeymoon either.  It's not like we are fighting over anything (we rarely fight) but it's still stressful to try to figure out what we both are looking for.
So, I am asking for help!  How did you figure out where you wanted to go for your honeymoon?  I know the most logical option is an all-inclusive resort somewhere in the Caribbean.  Sadly, we aren't really beach people and Jeremy doesn't like to put his head under the water (he never learned to breathe underwater).


Options we are thinking for our honeymoon are:
Europe* — This is very far-fetched, but I still want to put it on our list
West Coast — We would probably fly to Seattle and then travel down the West Coast.
Colorado — This one is on my list.  I haven't mentioned it to Jeremy yet (oops!)
Grand Tetons/Yellowstone –Any National Park really.
Caribbean
*Back story:  We have over 80,000 Delta Skymiles.  I thought (should have known it was too good to be true) that we could fly roundtrip to Europe with 80,000 miles.  You can't.  We want to use our Skymiles for our honeymoon but that might not be possible unless we stay in the US.  I am totally fine if that is what we choose to do.  We have enough miles to get one of us over to Europe but don't really have the funds to get the other person there plus everything else you have to pay for over there.  See our problem?
Europe isn't totally out of reach.  It will just be a bit more expensive than we originally planned.  I guess tickets aren't as much as I thought, but if we can use our miles and stay in the US that would be awesome too!
So, what did you do for your honeymoon?  Or where are you planning on going?  I need help guys!
---

It's now time to link up for Wedding Wednesday!
The rules are easy!
Just grab our button, place it on your blog post and come and link up with us to share your Wedding with us!  I love reading everyone's posts!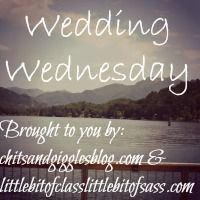 <div align="center"><a href="http://www.chitsandgigglesblog.com/" title="Chits 

and Giggles"><img src="http://i1249.photobucket.com/albums/hh513/aukris02/weddingwednesdaybutton_zps1bde4fd6.jpg" alt="Chits and Giggles" style="border:none;" /></a></div>
---