I am suffering from a complete blog brain lull that I am blaming on Memorial Day week.
What is that exactly?
Well, Sarah at Venus Trapped in Mars came up with this amazing idea.  We are here to celebrate all the drinkers out there!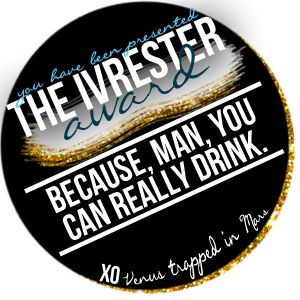 The Rules: 
1. Acknowledge who nominated you.
2. Answer the 10 questions below.
3. Nominate 10 bloggers you think are excellent drinkers.
4. Don't nominate the blog that nominated you, duh.
The Questions:
 1.  What is your favorite drinking game and why?
I have to admit that I haven't played a drinking game in a long time.  But before you run away, I played lots in college.  I played way too much Presidents and Assholes in college.
2.  It is your birthday, what is your idea of the perfect evening.
Oh man, I love birthdays!  I think the perfect birthday is going out to dinner and then going bar hopping.  Always take the day after your birthday off though.  I know from experience!
3.  Money is no object, what is your go to drink of choice at a bar?
Anything top shelf.  A margarita would be lovely or a very expensive glass of wine would be lovely as well.
4.  How many times have you played the game "Edward 40 Hands".
Err.  Am I the only one who has no idea what this is?  I'm very curious about the name of this game.  Hmm…
5.  Take this alcohol screening quiz here, what score did you receive?
I got a 40.  Is that good?  Hmm.
6.  What is your favorite memory with Alcohol?
Ok, there are a lot of memories.  I was thinking of posting college pictures, but I don't have any on my computer.  But don't worry.  I have TONS of others to share.
In 2008, I went on a cruise with all of my sister's friends.  There were like 18 of us that all went cruising.  You can imagine the crazy that in sued.
I get really "Hey girl hey!" when I'm drunk.  As you can see here.
Our cruise was over my birthday in January.  Loved it!
7.  What is your favorite song about drinking? Or song to drink to?
Err…anything that is on the jukebox?  No idea!
8.  What is your favorite activity to do while drinking (i.e. boating, bowling, golf, trivia, etc.)
I would say being by the water in some capacity.
All the pictures below are from our trip to Puerto Rico with Jeremy's friends.  It was AWESOME.  I don't remember much.
9.  In your opinion, which is the number one party school in the country and why?
Um, Auburn obviously.  You see, there isn't anything to do there except drink and party.  Seriously.  The closest big cities are Atlanta (150 miles away) and Montgomery.  Is Montgomery big?  No…so you get the drift.
Since it's all farmland and boring, it made for some great parties.  Sadly, I don't have many pictures before 2007 on this computer.  So you guys just have to take my word for it.  I got to Auburn in 2002, just so you know.
10.  When do you know you have had too much to drink? What are your signals?
Some of my signals can be seen in pictures above.
I get really picture happy.
I get really really excited about everything.
I get really touchy feely.
Case in point:
I nominate:
Everyone that wants to play along.
Yes, it's a coup out.  I can't pick just 10 of you to play along.
________________________________________________________________________________
Where you wondering why I called this post "The Silver Lining".  Well, I interviewed for a job on Tuesday and found out that they didn't select me to take that job.  Sad, I know.  But it was worth the experience.  I need help interviewing and prepping for my next move, so it's good in that regard.  Another job will come along and I will hopefully get to interview again and get the job this time around!