The Auburn oak trees are over 100 years old and Auburn fans truly treasure them.  We used to have them going all up the main street and then Hurricane Opal came along in the 90's and destroyed most of the oaks on the main street.  There were 2 untouched oak trees though on the corner of College Street and Magnolia Road.  We like to call it "Toomer's Corner".  You can get a lemonade at Toomer's Drugstore (fresh squeezed…and you can watch them do it) and we roll the trees when any Auburn sporting event wins.
Here are the trees in their hay-day:
Gorgeous right?  So big and luscious, right?
Well.  They were until 2 years ago when something so sinister happened to them.  It gets me so fired up talking about it, but I think it needs to be shared since football season is right around the corner and probably the biggest tradition at Auburn is in jeopardy of ever happening again.
If you are a fan of the SEC, then you know we are all pretty big rivals of each other.  With Auburn being in Alabama, our biggest rival is obviously University of Alabama.  The Crimson Tide.  Their mascot is an Elephant.  Don't ask me why…that is even more confusing than our Tiger and "War Eagle".  But that is for another day.
Well, in 2010 we went undefeated and won the National Championship game.  Supposedly when our players went to Alabama to play against them at the Iron Bowl they did something to the Bear Bryant statue.  First, Bear Bryant is dead.  Second, I believe it was putting an Auburn jersey on him.  Innocent enough, right?  This is something you could take off and be done with it.
Well, at that game was a redneck jerk who saw this and wanted to take his revenge out on our school.  This guy never went to Alabama, never graduated there (I'd be surprised if he graduated high school) and I believe he lives in a trailer park.  Back woods country bumpkin, if you ask me.  He also named his daughter Crimson Tyde and a son after legendary Alabama coach Bear Bryant.  Seriously something is wrong with this guy.
His name is Harvey Updyke and he poisoned our trees.  The trees were beginning to show signs of a natural death, but they were in no way anywhere close to being completely dead.  He injected a lethal dose of pesticide into the soil of both trees.  I am on the verge of tears because this is just so incredibly sad.  How can one person do this to trees?  If you are thinking, "You are getting teary over trees?"  Yes I am.  It's not just that they are trees.  They are a tradition at Auburn since the inception of the school.  It's something every Auburn fan loves doing.  Everyone goes to Toomer's Corner to roll the trees with toilet paper.
This is after the 2010 National Championship Game.  I wish I had been there!
 That is what we do and it is so much fun.  Now, it will never be the same.
This is what they looked like in October 2011.
This is what they look like now.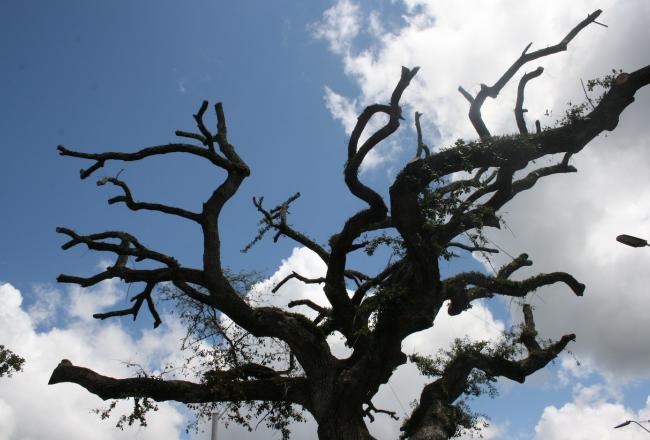 It is so sad.  Harvey Updyke has confessed to his crimes.  He originally got on the radio show The Paul Finebaum show and told of what he did but he confessed again to authorities in June of this year.  Regardless of this, our trees will die and we will never be able to plant new ones in their place because the soil is still infected.
I understand rivalry and I do believe it's good.  As long as the rivalry doesn't effect 100 year old trees or another schools property.  He had no right to go there and inject them.  No right.
As football season approaches, please remember what happened in 2010 and that we are still living with it today.  And please respect each other and each others choices, even if they aren't part of your personal beliefs because this should never have happened.