Bonjour, y'all! My name is Brita (pronounced bree-tuh, just FYI), and I blog at Belle Brita. Like most lifestyle bloggers, I write about a little bit of everything–marriage, travel, books, fashion, etc.–but all with my own Christian feminist libertarian twist.
I recently had the privilege of being a bridesmaid in my best friend's NYE black-tie wedding. While she was an awesome bride, the whole experience did make me wonder about some of those other brides…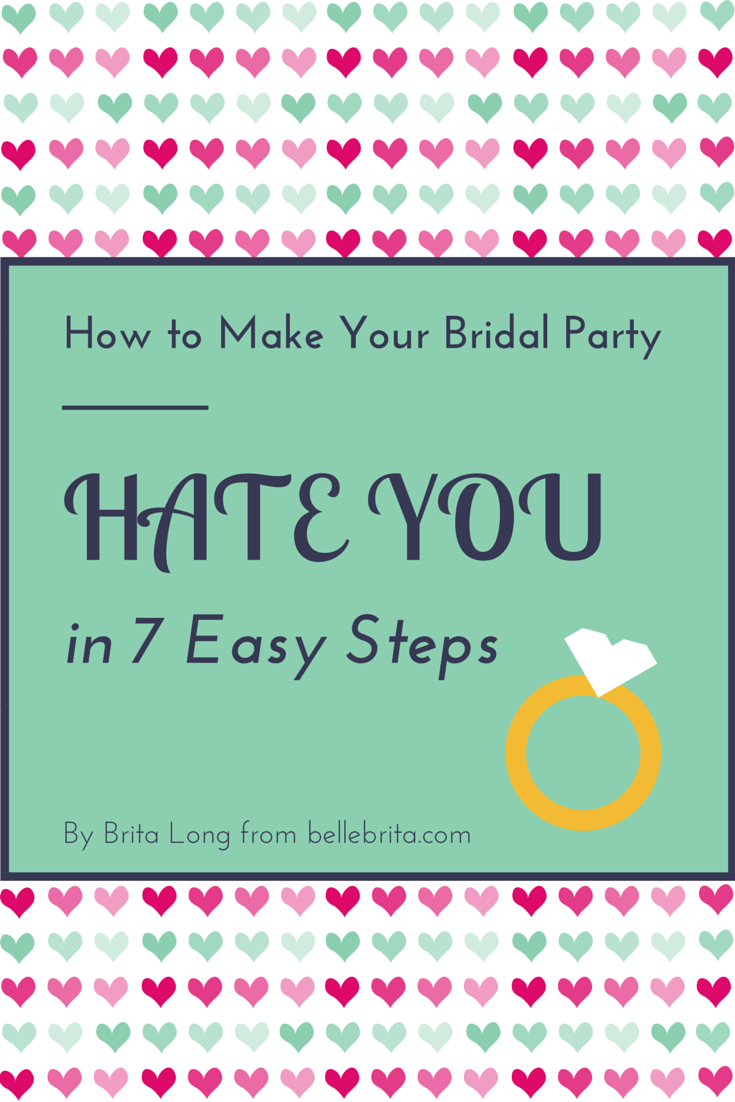 1) Leading up to the wedding, talk about it and nothing else with your bridesmaids, no matter what is going on in their riends.
Between Dan's proposal to me and our wedding, yes, I wanted to talk about it a lot. Luckily for me, my best friends Libbi and Henry were planning their own wedding, so we could "talk shop," so to speak. But I never let wedding talk monopolize my conversations with my other friends. Sure, I shared exciting details with them and answered any questions they might have, but I also did my best to keep up with their lives.
During the wedding-planning process, it can feel like the rest of the world has stopped to revolve around you… But it hasn't, not really. It's normal and understandable that you're excited about preparing for your big day! Just remember that your friends have exciting stuff (or hard stuff) going on in their lives too, and they still need your love and support.
2) Trick your friends into coming over for a fun "girls' night," when you actually plan to spend hours DIYing wedding favors and centerpieces.
Your bridesmaids want to help you in any way they can to prepare for the wedding. They don't need you to trick them. Ask your friends politely to spend time with you DIYing wedding decor, and in return, be sure to feed them!
3) Invite your 100 closest friends to the bridal shower that your maid-of-honor is throwing for you.
Yes, traditional maid-of-honor duties include throwing your bridal shower, although other bridesmaids might choose to co-host. When your best friend asks you who you want to invite, don't go overboard. If you take advantage of your MOH's generosity, she might end up resenting you. Her shower to you is a gift, and you should respect that.
4) Demand your bridesmaids attend every single bridal event, no matter how far away they live.
Obviously you love all the women in your bridal party, or you wouldn't have given them this honor. In an ideal world, all your bridesmaids would live locally, have unlimited vacation time, and earn six figures at work. Then it would be easy for them to attend the engagement party, half a dozen bridal showers, AND the bachelorette weekend. I know I wouldn't mind living in that world!
Unfortunately, this is usually not the case. While it's definitely fun hanging out with all your bridesmaids at once, it just won't be feasible for every single bridesmaid to attend every single bridal event. If you really want them to spend time together at least once before the wedding, choose one event and prioritize that. Even then, be prepared for one or two bridesmaids to already have plans they can't break. I promise they still love you!
5) Ignore your bridesmaids' financial abilities when picking out their dresses.
I'm not going to give a price for what is and is not reasonable for a bridesmaid dress. That will vary wildly depending on the geographic region, the type of wedding, and personal finances. But you should consider your bridesmaids' financial situations when choosing their dresses. Do you really want one of your closest friends to back out because she can't afford a bridesmaid dress?
6) Intentionally pick out hideous dresses for your bridesmaids to wear.
I honestly thought this was a myth, but apparently some brides are really that insecure. On your wedding day, I promise your bridesmaids will not outshine you, even if you choose beautiful dresses for them. I was recently in a NYE wedding, and my best friend let us bridesmaids choose among several dress styles, just all in the same color. We all looked beautiful, but the glowing bride was gorgeous.
7) Insist on professional hair/makeup/nails, but make your bridal party pick up the tab.
It's fun getting all gussied up with your friends, and I know you want to spend that time bonding with your bridal party. But if you insist on professional beauty treatments, then you need to pay for that.  Your bridesmaids have already paid for their dresses and alterations, shoes, and travel expenses. They are capable of doing their own hair and makeup, or finding their own affordable nail salon. If you really want a uniform look that requires professional cosmetologists, find room for it in your budget.
I want to hear from you! Whether you've been the bridesmaid or the bride, share your tips and tricks to guarantee your friends will love (or hate!) you after the wedding.