One thing I knew almost immediately was my bridal party.  I had these girls figured out early on.  All 5 of them mean something special to me and I knew they had to be included in my "big" day.
What I don't  understand is the bridal parties with like 12 girls and 12 boys.  It's crazy.
This is from the same wedding via Style Me Pretty.  They had the same number on both sides.  The girls didn't all fit in the collage because there are so many of them.  I just don't understand it.
   

  Left Picture // Right Picture
There are so many people in both of these pictures, not from the same weddings, that you can't see all of their heads.  Does that make sense to anyone?  And the picture on the right?  Yeah, they didn't all fit either.
Not only do I not have that many friends who I would even consider being a part of my day, I can't imagine having to buy all those girls gifts!  Good grief.
For this reason, I am grateful:
That the girls I picked are from all different parts of my life.
That they truly mean something to me.  I didn't have that, "Oh but I don't want to hurt anyone's feelings" bit.
I was not in a sorority.
That I am an "older" bride.  This might sound weird, but hear me out.  If I had gotten married at 23 (so glad that didn't happen), I probably would have had more girls I could have chosen from.  Because I am older and wiser –work with me here — I know that it doesn't matter about the number of girls but the quality of girls you choose.
I understand not wanting to hurt people's feelings, but when it comes to numbers just remember that you have to buy these ladies gifts and those aren't cheap!
If you are planning or did have this many people in your bridal party, good for you.  It's just not my style and I think it really takes away from the bride and groom.
---
Ready to link up your Wedding Wednesday post?  We welcome any and all wedding related posts.  If you are engaged, a newlywed, or been married for 20 years, please link up today.  We love reading everyone's posts!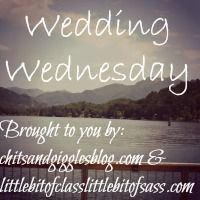 <div align="center"><a href="http://www.chitsandgigglesblog.com/" title="Chits 

and Giggles"><img src="http://i1249.photobucket.com/albums/hh513/aukris02/weddingwednesdaybutton_zps1bde4fd6.jpg" alt="Chits and Giggles" style="border:none;" /></a></div>