When Jeremy and I started looking at photographers, he made it pretty clear that he didn't want engagement pictures taken.  His reasoning:  they were always so posed.  And he didn't like that.  At the time, I didn't really care about them and was fine not to have them.
But then as we started more planning, I realized that we would need something for our Save the Date cards. The photographer that we picked (and already had booked by the time we figured all this out) doesn't include engagement pictures in his packages.  That was fine for us at the time we booked him, but we needed to figure something out for our Save the Dates.
So what did we do?  I happen to be friends with an up and coming photographer.  Bam!  She also can design some pretty amazing things for weddings as well.  Her portfolio was lacking portrait photography though.  She mainly does newborn photography.  She was more than willing to take our pictures for us to help her grow her portfolio.  We were her guinea pigs, but I think the pictures turned out amazingly well.
We all met up in Roswell, GA at the Roswell Mill.  I had never been down there before so it was fun to see a place I had never been before!  There is this really cool covered bridge and some awesome brick structures that we took pictures at.  I found out later there is also a waterfall which would have been cool, but I think that is the "main" attraction and it was probably a little busy.
So here are some of my favorites from our engagement shoot:


I love this one.  This was one of our first pictures of the day and I just love it.  Gorgeous!
I wish I was sucking in but Jeremy loves this picture since it's more natural looking.
Evidence that we hold hands!
This one is my favorite and we are hoping to use it as our Save the Date.
What do you think?
Don't forget to link up your Wedding Wednesday post!  You don't have to be engaged to link up!  All we ask is to take the button below and put it someone on your post.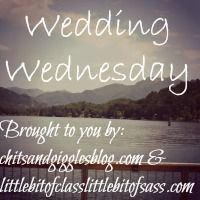 <div align="center"><a href="http://www.chitsandgigglesblog.com/" title="Chits 

and Giggles"><img src="http://i1249.photobucket.com/albums/hh513/aukris02/weddingwednesdaybutton_zps1bde4fd6.jpg" alt="Chits and Giggles" style="border:none;" /></a></div>